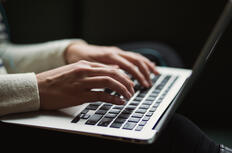 Can you edit
my blog post?
Get your blog edited by a native English speaker for $0.02 per word.
---
FAQ
Who is this for?
This service is for anyone who needs help editing and proofreading their blog post. While the original intent was to help non-native English speakers specifically, we have found that many native English speakers are also looking for editing help.
Who is editing?
Your blog post will be reviewed by certified editors from the US, with extensive backgrounds in English, blogging, and content creation.
What will I receive?
An edited document in which spelling errors, grammar errors, and typos have been corrected.Changes and suggestions to help improve clarity, flow, structure, and readability.Tracked revisions so that you can see and review all the changes that have been made.Comments and suggestions that will help you improve the writing and refine your message.A short summary of the work that has been done and any major concerns.
How much does it cost?
Price per word = $0.02

Most editing services charge anywhere from $0.03/word to $0.14/word.
Do you offer a satisfication guarantee?
We offer a 100% money back guarantee. If you are not satisfied with the results, you will receive a full refund.
Is there a word limit?
No.
What is the turnaround time?
Typically 24 hours for every 1000 words.
---
Testimonials
"I've been dying for a service like this! Quick, hassle-free and hands off. They proofread my blog post and returned with corrections in record time. No brainer to use them over and over again!"

-Bryan S Arnold
"Great service! Fast and precise. Thank you very much!"

-Woratana Perth
"Received very helpful grammar edits to a presentation I am working on. Much appreciated and highly recommended! Quick turnaround and helpful grammar edits not caught by software."

-Sam Campbell
---
About
This service was created to fill a void in the market. Currently, there are many editing services for academic papers and authors, but very few for the most common form of writing these days: blogs.

Other services will edit blogs, but they often charge a premium because it requires the time of editors who are working on other's Masters or Ph.D theses - which is overkill for almost all blog posts.

The vast majority of people just want to make sure their blog post is clear and error-free. They probably aren't worried if it's in MLA format or not.

Because of this, our prices are significantly cheaper than other editing services. Best of all, we offer a 100% money-back guarantee if you are not satisfied with the results.
---
Questions?
canyoueditmyblogpost@gmail.com
Payment
Your submission was received.

Please calculate your submission's word total and pay below:
Price per word = $0.02
Include footnotes and endnotes if you want us to review them.
Want to pay via credit card?
Email canyoueditmyblogpost@gmail.com
and an invoice will be sent to you.